Encryption Software, Secure Storage, Encrypted Drives
Home > Screenshots > Main Screenshot on Windows 10
How CryptoExpert 8 looks under Windows 10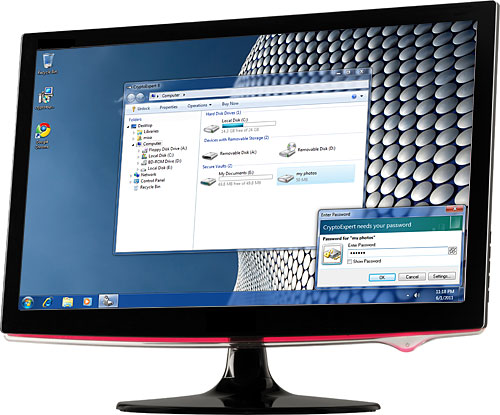 Click this image to see full sized one
CryptoExpert 8 has been especially designed for Windows 7 and has interface looking like Windows Explorer.
It will be familiar to all Windows users.
CryptoExpert 8.38 - Maintenance Build.
September 8, 2016
Fixed several crashes and improved overall compatibility with Windows 10..

CryptoExpert 8.37 - Activation works again.
May 5, 2016
Product activation works again. Bug has been fixed..

CryptoExpert 8.36 - No crash during password change.
August 5, 2015
No application crash when a container's password is changed..

Windows 10 Compatible
CryptoExpert 8 is compatible with Windows 10, 8, Windows 7 32-bit and 64-bit
Download3K has awarded CryptoExpert by Editor's Pick award